BLOWDOWN TANKS & BLOWDOWN SEPARATORS
A well-maintained steam boiler requires regular blowdown events to eject the impurities left behind when the water carrying them transforms to steam. Precision Boiler's blowdown tanks are designed and fabricated to comply with exacting industry standards to reduce the pressure and temperature of blowdown boiler water before discharge to the facility drain. Most local and state regulations require boiler blowdown water temperature less than 140oF before it can enter the main drain system. Our blowdown tanks and separators are available in a variety of sizes to fit any specification and can be configured for heat recovery to preheat boiler feedwater.
Central Steam Plant | Health Care | Industrial Process | Power Generation
BD Blowdown Tank
Capacities: 30 gallons to 1,200 gallons
Standard Model: ASME Section VIII, "U" Stamp
The Precision Boilers standard, used where there is ample space for a large tank to collect and hold boiler blowdown, allowing the effluent time to cool below 140oF before releasing it to the facility drain.  The portion of blowdown that flashes to steam vents to atmosphere or can be recovered to preheat boiler feedwater.
Standard blowdown tank design pressure is 50 psi; the tank's vent is sized to limit the vessel pressure to 5 psi
Boiler blowdown enters the vessel's lower-pressure environment, where approx. 30% flashes to steam, then flows out the tank's vent or can be piped so that its latent heat is recovered and used to preheat boiler feedwater
Blowdown effluent is stored until its temperature falls below 140oF and a temperature controlled, self-operating valve opens to drain the tank
Most commonly used where there is ample space for a large tank
BDS Blowdown Separator
Capacities: 10 gallons to 50 gallons, suitable for boiler operating pressure up to 800 psi
Standard Model: ASME Section VIII, "U" Stamp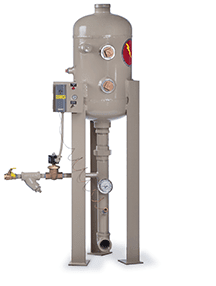 A blowdown separator is the best choice when space limitations preclude using a large tank to collect and hold the effluent while it cools to an acceptable drain temperature. The blowdown separator accepts boiler blowdown, vents the portion that flashes to steam, but does not store the effluent until it cools.  Instead, a temperature controlled mixing valve mounted in the tank's discharge piping adds cold make-up water to cool the effluent as it immediately discharges to the drain.
Standard blowdown separator design pressure is 50 psi; the tank's vent is sized to limit the vessel pressure to 5 psi
Boiler blowdown enters the vessel's lower-pressure environment, where approx. 30% flashes to steam, then flows out the tank's vent or can be piped so that its latent heat is recovered and used to preheat boiler feedwater
Blowdown effluent collects in the bottom of the tank, where a mixing valve in the tank's discharge piping adds cold make-up water, cooling the effluent below 140oF as it immediately discharges to the drain
Most commonly used where space limitations preclude a large tank