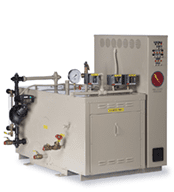 Precision Boilers entered the hydronic heating and plumbing industry in 1946, when we engineered, developed, and produced our first product, the Precision Sump Pump.
A year later, the first Precision Boilers' electric boiler was designed and fabricated. The company and its reputation continued to grow, and our capabilities expanded to include electric steam boilers and electric hot water storage heaters.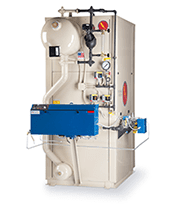 During the 1990s, Precision Boilers began adding complementary and ancillary products to its electric boiler portfolio. It began when we developed a line of power-gas-fired vertical firetube boilers and water heaters.
Through acquisition, the company complemented the vertical fire tubes with a line of flexible watertube boilers — both hot water and steam, as well as a complete line of feedwater storage and delivery equipment, including condensate return tanks, deaerators and feedwater supply systems.
Precision also introduced indirect fired packaged hot water and steamgenerators, and entered the heat side thermal storage business with custom designed Thermogenetic™ systems, all helping to establish us as the boiler room resource.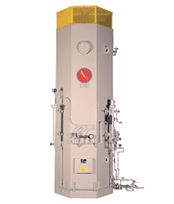 The most significant addition to the Precision Boilers product line has been the High Voltage Jet (HVJ) Electrode Boiler. Designed to operate on less expensive line-voltage (13.2 kV) with the size and capacity to fit the largest industrial and power generation applications, the HVJ is changing the way power engineers and industrial process engineers think about steam generation.
Our Trusted Reputation
Building upon seven decades of boiler design and construction success. 70 years from that first sump pump and electric boiler, Precision Boilers continues to seize opportunities to innovate, while adapting to changes in the many markets we serve.
Service You Can Count On
We stand by our product from beginning to end. Precision Boilers' quality policies and principles are designed to ensure all products and services consistently meet or exceed customer requirements.
It is our goal to consistently achieve high customer satisfaction, and we do so by offering:
Reliability
On-time delivery
Clear, complete documentation, in both submittals & as-builts
Start-up support
Warranty
After-sales support