Facility managers at industrial processing plants all over the United States count on Precision Boilers for reliable, efficient, boiler systems. With our extensive selection of electric boilers, fuel-fired boilers and ancillary equipment, we're the logical choice for your industrial process boiler.
Our customers typically turn to us to replace an aging boiler, expand their steam production capacity, or for new production plant builds. In some cases, we're simply replacing or adding a new boiler. More often, customers prefer to have us build a complete package that may include deaerators, blowdown tanks, storage tanks, steam boilers, steam generators and more.
Benefits of Industrial Boiler Upgrades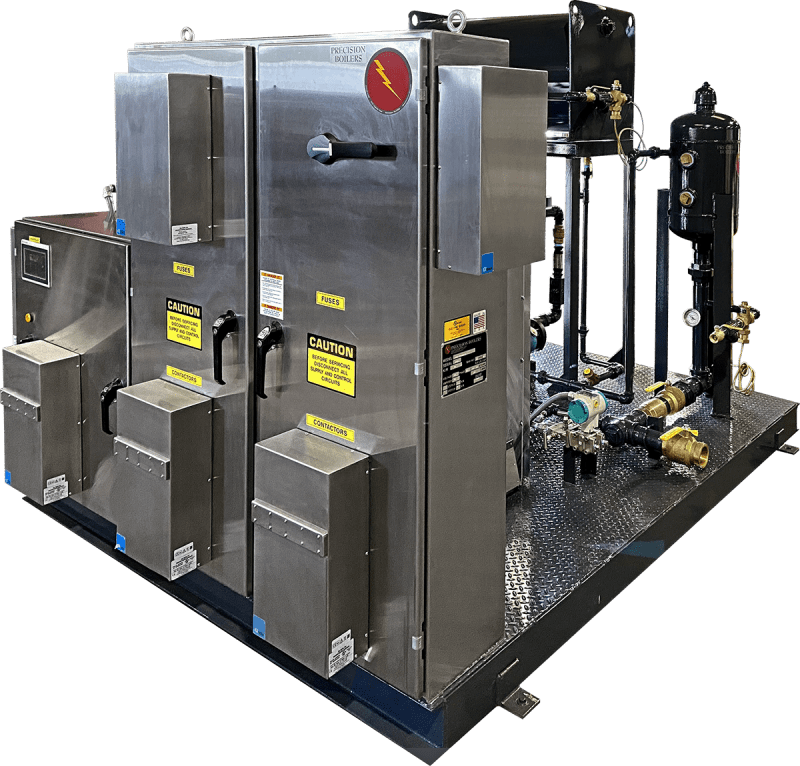 Improve steam reliability
Minimize downtime
Increase steam capacity & pressure
Improve productivity
Lower emissions
Reduce maintenance costs
Limit or eliminate fossil fuel use
Save on fuel costs and operating expenses
Types of Facilities
Chemical processing plants
Food processing plants
Pulp & paper processing
Petroleum plants & refineries
Pharmaceutical processing
Custom Solutions
At Precision Boilers, we work with design engineers, contractors and facility leadership to recommend and implement a boiler package that will be easy to maintain, minimize downtime, quickly meet changing load demands and limit fuel waste.
We begin the process by evaluating your facility's load demand schedule, required operating pressure and any specific emissions considerations. If you want to use the same boiler system for both process steam building heat, we'll take that into consideration as well. Then, we'll use all of this information to develop an optimal boiler package tailored to your needs.
Our industrial boiler recommendation may include a mix of electric and fuel-fired boilers and steam generators. This allows us to provide a solution that provides quick startups so you don't have to operate boilers in standby mode during shifts with lower production demands. Using multiple boilers also enables you to fire up and power them down individually as your demand for steam changes. And, incorporating electric boilers helps reduce emissions and makes it easier to manage fuel price fluctuations.
Recommended Products
Precision Boilers is your source for a complete industrial boiler room solution. We design and manufacture a full range of electric and fuel-fired boilers as well as the related equipment needed for industrial processing plants:
Get a Custom Solution
Contact Precision Boilers today to get a customized solution for upgrading your facility's industrial boiler.